About

Us
Kwality Group of Industries, Which Includes Kwality Electronics Industries And Kwality Photonics Pvt. Ltd. Is INDIA's Largest Producer of Light Emitting Diodes (LEDs), LED Displays & Opto Electronic Products.Quality Leader - Having Obtained ISO 9001:2000 And Consistently Achieving Near 100% Yields, and Range Leader - Offering Over 600 Types OF LEDs, LED Displays & Opto Electronic Product.
Our

Services
Kwality Photonics Pvt Ltd. is India's leading manufacturer of LED (Light Emitting Diodes) Displays and Power LED for Solid State Lighting.Kwality Electronic Industries (KEI) established in 1987, pioneered manufacturing of Light Emitting Diodes (LEDs) and Opto Electronic Components in India. Today KEI is the largest domestic source for LEDs.
Our

Products
Download the Kwality Corporate Handbook
LEDs, POWER LEDs, uniLED-AUTO BULB,LED DISPLAYS,SMD DISPLAYS,PLCC SMD LEDs,SUPER FLUX LEDs,POLYWA OVAL LEDs,POLYWA 700MA LEDs,ELECTRO OPTICAL CHARACTERISTICS.
India's First Interchangeable LED Automobile Bulb
kwality uniLED - India's first Interchangeable LED Automotive BULB Home www.kwalityphotonics.com
Phone +914027123555 +919000081171   This e-mail address is being protected from spambots. You need JavaScript enabled to view it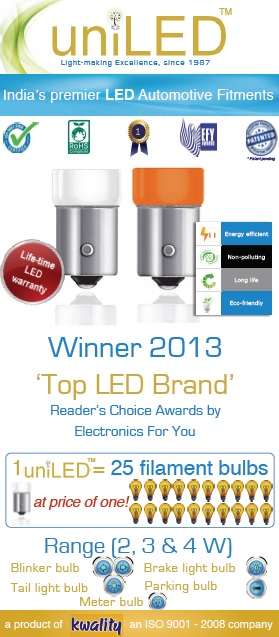 1Watt LED at a Price below Rs6.00 !
Kwality Photonics Pvt. Ltd. which has been a market leader in manufacture of Light Emitting Diodes (LEDs) and LED Displays is now offering HOT New item: KLSL505W -110Lumens at Half the cost of conventional package!
Kwality PolyWa 505W Series are embedded with single large chip from High reliability LED chip capable of being driven upto 350mA to obtain 110Lm. The PolyWa 505W are ideal for retrofit applications where replacement of existing incandescent & Fluorescent bulbs is desired thanks to factors like more energy efficient & uniform illumination and particularly aimed at substituting 60W Bulbs, 36W CFLs and 40 W tube lights.
Visit us at AES Auto Engineering Show 2014 ( by Messe Frankfurt)
MAY29-31, 2014. At AutoCluster Auditorium , Chinchwad Pune.
First time on Display : India's First LED Auto Bulb - the uniLED
R&D teams of  Automotive OEMS & Design Houses welcome to Seek CUSTOMISE our uniLED LED autoBulb. TO SUIT their LEGACY TAIL LAMP & REAR COMBINATION LAMP HOUSING.
Change over to  'LED' now, at
ZERO ENGINEERING COSTS  & O
n Demand!
Read more...
MEDIUM POWER SMD LEDs KLSL5630W for LOW COST LED LIGHTING
KWALITY PHOTONICS now Developed and released HOT product - MEDIUM POWER LEDs 0.5Watt category - KLSL5630W 60Lumens @ 150mA.

KLSL5630W-60 is designed to BRING DOWN THE COST of manufacturing and cost of Bill of Materials (BOM) to the Lighting manufacturers.
USP of KLSL5630W is the MOST SOLDER FRIENDLY STRUCTURE- with (i) just two terminals and (ii) LONG leads suitable for manual soldering. Most of the similar models from Competitors have four small, almost invisible terminals that are difficult to manage in-house soldering.
Read more...
Kwality Photonics Pvt. Ltd has extended its Blue LED display product portfolio to include Single digit, Multi digit, Dotmatrix, Lightbars etc. Strict die selection and sorting prior to manufacture ensures that the new range is not only stylish and striking in appearance, but is also very consistent, meaning that Multiple-digit displays can now be manufactured to the same level of performance that customers would expect from comparable Green or Red devices.
The expanded range now includes: single-digit Seven Segment Displays (SSDs) from 7.6 to 200mm character height; dual, triple and quad SSDs in 7.6, 10 and 14mm variants.Blue dot matrix displays are available in a very wide range of alternatives with the traditional 30 and 50mm 5x7 modules proving particularly popular. There is a choice of intensity and wavelength in the range, with new variants being constantly introduced
Read more...